---
Dr Karen Morley* says when leaders coach rather than control, they create an empowering culture that helps motivate people and engage them more deeply.
---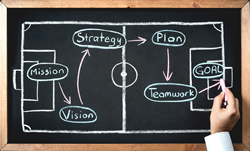 The demands of leadership continue to increase in pace and complexity.
Leaders are expected to get more done.
They are expected to be available 24/7, to respond as if all information is always at their fingertips and to work across multiple time zones.
Under the pressure of these escalating demands, many leaders adopt a command-and-control style of leadership with their teams.
They don't delegate enough, they overwork and end up feeling overburdened.
Teams disengage.
Leaders and their teams end up producing less, while also jeopardising everyone's wellbeing and increasing the risk of burn-out.
Controlling as a response to time pressure generally backfires.
Controlling leadership means that junior staff don't feel safe to bring up a range of important information that might reduce accidents and injuries in the workplace, and mistakes that might detract from value for customers.
Controlling means that leaders have to continue to find the solutions.
While 80 per cent of organisations say they are keen to reduce control and grow a coaching culture, many continue to reward command-and-control styles.
A core proposition of command-and-control is that the people at the top make the decisions and others aren't to be trusted.
Organisations that promote an "always on" expectation reinforce high levels of control.
When leaders coach rather than attempt to control, people become more resourceful and find their own answers.
Teams work more effectively together because they engage in dialogue.
They listen and ask questions rather than tell others what to do.
They see resistance as an opportunity to explore other perspectives, rather than as a threat.
The nature of conversations between people changes.
Interactions become more positive.
A coaching climate is more likely to create a level of safety for everyone to share information.
When a leader listens and coaches, staff are more likely to make out-of-the-box suggestions, and to volunteer contentious information.
Such an environment is rarely built where leaders are controlling.
Many leaders believe that if they spend so much time coaching, they won't be able to get their own job done.
If they spent their time on others, they won't be successful.
But they are successful in a completely different way.
When leaders coach, they create a culture that is empowering and energising.
When coached, people develop, their motivation elevates, and they engage more deeply.
Controlling can be hard to avoid: it's controlling to always have the answers, for example.
Most leaders find it hard to avoid automatically naming the solution.
And it's controlling to always speak first.
The leadership task isn't to be the first person to find the solution.
Both of these simple behaviours are reinforced by the status and power of the leadership role.
Status comes with leadership roles: we expect a degree of dominance and influence.
We expect leaders to take charge, to know the answers, to jump in.
That's fine for demonstrating you have leadership potential.
Exercising leadership is then a fine balance of demonstrating these requirements, while not overdoing them.
Be mindful of how much room you leave for others.
The leader's challenge is to stay focused on what team members need to think about and to learn.
To encourage them to find their own solutions.
That way they will be able solve their own problems and develop their future capability.
They're also more likely to develop innovative responses, as they consider more options.
The coaching style ripples out.
This ripple effect of coaching means that the efforts of the leader are magnified through the efforts of everyone they coach.
When leaders coach rather than control they open the door to team members' aspirations, creating the opportunity for them to grow and develop to the greatest extent possible.
* Dr Karen Morley helps executives and HR leaders grow their coaching capability and is the author of Lead like a Coach and Gender Balanced Leadership: An Executive Guide.
Her website is www.karenmorley.com.au.