---
Rebecca Houghton* says learning to communicate with people in more senior positions is vital to career growth.
---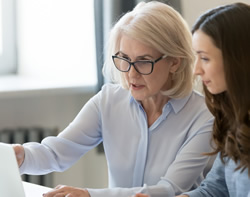 No matter where you are on the career ladder, you'll always have to deal with people more senior than you.
Whether you're a new leader or an experienced leader, or even if you're not a leader at all, learning to communicate with your boss, their boss, and their executive peers is an important skill you will need to learn.
Why?
Many of these people will have power over your career.
They might evaluate your work and your style to assess whether you're ready for the next role.
They have huge influence over talent and performance decisions that directly impact you.
Your ability to learn from them is immense, so building a relationship where that is possible is important for your growth.
Your relationship with them enables you to build your influence, both directly through influencing their thought process and indirectly via your association with them.
The more visible you are to these people, the more it can help you advance in your career.
But many people fear or even avoid building relationships with more senior executives.
The barrier may be our own self-doubt, it may be a deep respect of the hierarchy, or it may be that we find ourselves struck dumb in the presence of greatness.
It may also be that we fear we are sucking up.
What-ever our reasons, and what-ever our barriers, building a relationship with senior executives is both easier and more important than you think.
Based on my experience of working with mid-level managers in Australia for over a decade, I've put together some strategies for you to explore.
The first thing to remember is that the further up the ladder you go, the less time these senior leaders have for you – so different tactics apply to different levels.
My most important advice is to prioritise your relationship with your boss.
Whether it's a weekly formal catch up or multiple corridor conversations the first and most important executive relationship we have is with our boss.
To make sure you really optimize this, it's important to build trust and goal alignment by managing your interactions deliberately and constructively.
The key here is to recognize that you both have a clear role to play in your relationship and you both rely on each other to achieve outcomes.
To help establish these clear roles in your relationship, focus on three key topics when you catch up:
What they can do to help – this should be things that are outside your sphere of control or you are struggling to influence quickly.
Tell them of risks and concerns – contrary to most inner voices, flagging risks (and mitigants) early and often does not make you look bad, it actually makes you look good.
A nasty surprise, on the other hand, is hard to forgive because it makes THEM look bad.
Ask them what they need – your boss will be under pressure from their boss, and if you can take even a little of that burden off them, you will build a relationship based on trust and value.
A relationship based on trust and value means they are more likely to support your visibility and advocate for you beyond their own team.
By introducing you to their boss, for example.
When you have an opportunity to build a relationship with your boss's boss, through an introduction or a skip meeting for example, it's important to remember the following golden rules:
They have less time to understand the detail, so make sure you frame your topic briefly and succinctly.
If they feel unclear on the point you are making, or what outcome you seek, you'll make them impatient and mark yourself as a poor communicator – neither of which are a good basis for a relationship.
Make sure you know your stuff and, confident in your subject, don't be afraid to disagree with them.
They want to help you, but they can't if they haven't got the right information – so keep your disagreement to facts rather than feedback.
Remember who you represent – your team and your boss, so respect and praise them both in your conversation.
If you represent only yourself, you'll be flagged as untrustworthy and not a team player.
After all – if you don't respect your own boss, then they are unlikely to want you to ever report to them.
And respecting your team's success is a smart way to reflect your own great leadership without having to point it out.
Finally, let's take a moment to consider how to build a relationship with even more senior executives in your business.
There may not be a natural opportunity to build a personal relationship with this cohort – they may be super-senior or outside of your normal sphere of operation, so think of this more as reputation-building than relationship-building.
Your reputation with this cohort will be based on your credibility and visibility, so seek out opportunities to showcase both.
This might be pitching a business case in partnership with your boss, or it might be providing an insight or an update for your team or function in a townhall.
You can also gain strong internal visibility by offering to MC events – setting you up for opportunities to meet, connect with and deepen your relationship with executives that might otherwise feel beyond your reach.
*Rebecca Houghton, author of 'Impact: 10 Ways to Level up your Leadership', is a Leadership and Talent Expert and founder of BoldHR. For more information about Rebecca can help your team visit boldhr.com.au