By Rama Gaind
By Ros Ben-Moshe, Nero, $32.99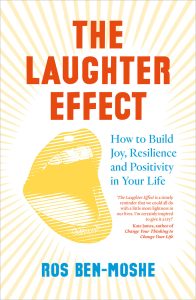 Charlie Chaplin rightly said: "A day without laughter is a day wasted."
Whether laughter is the language of the soul or the shortest distance between two people, laughing is, and will always be, the best form of therapy. So, is laughter the best medicine? Is it really that simple?
Internationally recognised laughter wellness and positivity expert, Ros Ben-Moshe shares the prescription.
"The good news is that if you're hesitant about channelling your inner comedian, or in the thick of a stressful situation, you can call on what I have coined the 'Laughter Effect'." It recognises that all emotions need to be experienced: the good, the not-so-good and even the less than not-so-good.
"That's what makes us human. It's about intentionally calling upon the energy of laugher – the essence of joy – to counter stress hormones and stimulate a daily 'dose' of positive welling: dopamine, our brain's reward centre; oxytocin, endearingly known as the molecule of love; serotonin, our body's antidepressant; and endorphins, our happy hormones."
The Laughter Effect is a powerful philosophy that enhances wellbeing and provides you with a road map to tap into the lighter side of life and awaken both your inner and outer smile.
Drawing on research, practice and wisdom from humour and laughter therapy, along with positive psychology and neuroscience, on offer is a new dimension to self-care, elevating mindfulness, gratitude and self-compassion.
Enriched by case studies from around the globe, Ros shares how the highly accessible Laughter Effect enhances resilience to stress, enabling you to respond to adversity and bounce forward with humour, levity and grace. "Living the Laughter Effect will awaken a positive change in yourself, how you respond to the world and, in turn, how the world responds to you."
You should be able to 'turbocharge your humour, laughter and joy' with this handbook.