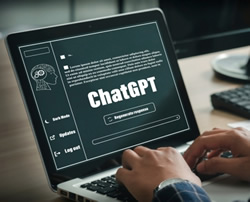 Singapore's civil servants will soon be able to tap the power of artificial intelligence (AI) tool ChatGPT to conduct research and draft reports and speeches from their existing work productivity tools.
ChatGPT, which stands for Chat Generative Pre-Trained Transformer, is to be integrated into Microsoft Word and progressively rolled out to 90,000 civil servants, starting with the Smart Nation and Digital Government Office.
The enhanced productivity work tool was the result of a month-long effort by Pair, a team from the country's Open Government Products (OGP), an experimental development arm that builds technology for the public.
Senior Project Manager at OGP, Moses Soh said the software aimed to ease the load on civil servants when they write and do research.
"We want to free officers up for higher-level tasks," Mr Soh said.
"This bot can help them get over that tough first draft, or speed up their work by creating sample e-mails or even speeches," he said.
"The chatbot is able to summarise long chunks of information and draft reports on policy-related topics within seconds.
"It can also recognise and instantly redact sensitive information to ensure it is not exposed."
Mr Soh estimated that an early version of the Pair program built into Microsoft Word would be rolled out across some of the civil service within two months.
He said a subsequent version would be able to access and analyse information from official databases, but this is still in the works, with no launch date planned.
Toa Payoh North, 14 February 2023