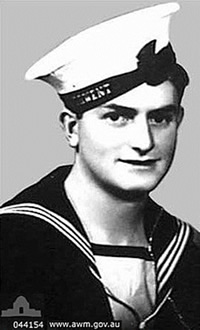 Prime Minister, Scott Morrison has announced the establishment of an expert panel to consider the retrospective awarding of a Victoria Cross medal to Ordinary Seaman Edward 'Teddy' Sheean (pictured) for his actions nearly 80 years ago.
Mr Morrison said overturning the decision made at the time not to award the Victoria Cross for Mr Sheean's heroic actions in 1942 would need to be supported by compelling reasons.
"That is why the Government's view and clear policy is that consideration of the awarding of a retrospective Victoria Cross would only occur in light of compelling new evidence or if there was evidence of significant maladministration," Mr Morrison said.
"Given there are different views on whether there is compelling new evidence about Sheean's actions in 1942, I have commissioned an expert panel."
In 1942, Ordinary Seaman Sheean's vessel, the Armidale, while on course for Timor, was struck by Japanese bombs and torpedoes, forcing its crew and personnel to abandon ship.
Seaman Sheean – only 18 years old at the time and wounded – continued to man his gun and return fire, affording his shipmates coverage as they leapt into the water.
Seaman Sheean went down with his ship.
Mr Morrison said the expert panel would provide him with advice as to whether the 2019 review by the Defence Honours and Awards Appeal Tribunal had any significant new evidence, not available to the previous reviews, and which was compelling enough to support a recommendation by the Government that Mr Sheean's Mention in Despatches be replaced by a Victoria Cross.
The panel is to be haired by former Minister for Defence and former Director of the Australia War Memorial, Brendan Nelson.
Other members include former Solicitor-General, David Bennett; former Secretary of the Department of the Prime Minister and Cabinet, Peter Shergold; and Senior Curator and Historian at the NSW ANZAC Memorial, Brad Manera.
The panel is to report to the Prime Minister by 31 July.