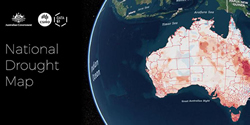 A map detailing Australia's drought disaster has been developed by the Commonwealth Scientific and Industrial Research Organisation (CSIRO) and its innovation arm, Data 61, at the request of the Joint Agency Drought Taskforce.
The taskforce, which includes representation from Geoscience Australia, the Departments of Agriculture and Water Resources, Human Services, Social Services, Infrastructure, Regional Development and Cities and Health, as well as the Bureaux of Meteorology, Statistics and Agricultural and Resource Economics and Sciences, ordered the map as a new online tool to bring together population data and information on drought conditions.
In a statement, the CSIRO said the online interactive map meant users had easy access to spatial information on drought conditions and support measures to assist with analysis, decision making, planning and reporting.
"The data includes rainfall, soil moisture, town size by population, number of farm businesses, agricultural types, available support measures and employment by industries," CSIRO said.
"In many cases data can be examined down to Local Government area level."
It said the map shared data from Governments on one platform so consistent information can inform the decision making of all organisations providing drought support and services.
"Organisations can also import their own data to make maps that are useful for their operations," it said.
The Joint Agency Drought Taskforce is also working with State and Territory Governments to share information on the platform.
Welcoming the new map, the Minister for Agriculture and Water Resources, David Littleproud said it presented a clear and precise picture of conditions and the drought response across Australia.
"This will help us to be flexible and responsive to the drought when conditions change," Mr Littleproud said.
"It has information such as rainfall, soil moisture, available Government assistance, numbers of farm businesses, agricultural regions and employment by industries," he said.
The new Drought Map can be accessed at this PS News link.