Reviewed by Rama Gaind.
Published by Mind Medicine Australia, $39.95.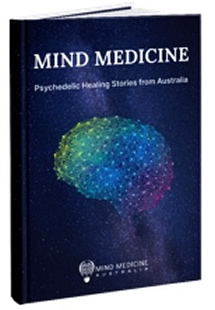 Australia's first book of psychedelic healing stories, from Mind Medicine Australia (MMA), was created to raise awareness about the healing potential of psychedelics and to reduce stigma around their use.
The volume contains true stories of 53 Australians, in their own words, that further reinforce the life-changing and life-saving impact of psychedelic-assisted therapies for a range of mental illnesses and addictions. It provides valuable insights into medicine-assisted psychotherapies that have shown impressive outcomes in treating a range of mental illnesses with greater effectiveness than standard treatments.
MMA exists to help alleviate the suffering caused by mental illness in Australia, and was founded by social entrepreneurs – Peter Hunt and Tania de Jong. They effectively commissioned this book on behalf of MMA.
According to MMA's executive director Tania de Jong: "So much has been said about the scientific and clinical potential of these medicines recently. However, the true impact of Psychedelic-Assisted Therapy is a deeply transformative human experience, best understood through story. And this book really seeks to destigmatise psychedelics."
The chair of MMA, Peter Hunt, says: "Mental illness levels continue to rise in Australia with some health experts suggesting that as many as one-in-three Australians now have a chronic mental illness compared to one-in-five (an already terrible number) before the current pandemic."
"Over 160 studies show that psychedelic-assisted psychotherapies are both safe and highly effective for 60-80% of patients after only two or three medicated sessions combined with a short course of psychotherapy, when conducted in a clinically controlled environment. The medicines involved are also non-addictive."
"This collection of first-hand accounts recalls the positive impact that these treatments have had on those suffering. We hope that this initiative will help to accelerate a much-needed paradigm shift in the approach to mental health solutions in Australia."
In the foreword, Mind Medicine Australia Ambassador Professor David Nutt says: "Psychedelic drugs represent perhaps the greatest advance in the treatment of mental illness in the past and present centuries. This book gives some remarkable examples of their healing power to support my claim. But on top of this we have a growing body of research evidence that not only supports these personal stories but also helps makes sense of what the medicines do to produce such remarkable results."
"… So now we have a perfect combination of personal narratives and clinical evidence plus new science to challenge and overturn the last 50 years of prohibition of these medicines … This new volume brings some powerful western voices to add to the extensive historic narrative."