---
Fairygodboss* shares Faiza Malik's best advice for becoming a leader in this ever-evolving field.
---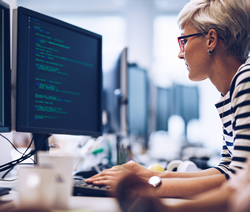 The IT industry is constantly evolving and changing, so "the best advice would be to have a growth mindset and stay a lifelong student," shares Faiza Malik, the VP of IT Strategy and Architecture at US Foods, one of America's great food companies and a leading foodservice distributor.
And, this growth includes not just one's technical skills, but also management and leadership abilities, too.
As part of this, those interested in growing an IT career should focus on actively seeking out learning opportunities at work.
"There are many opportunities to gain experience from your colleagues in IT," shares Malik.
"People that work in this industry often come with varied backgrounds and skill sets."
You can use these diverse skill sets to get started on your desired IT career path.
Another key suggestion for growing a career in IT is to find a mentor that Malik says can "guide you and help you make good career decisions."
Mentors can also help you learn management and leadership skills.
A mentor herself, Malik emphasizes how fulfilling this relationship can be.
"The most rewarding aspects of my field are coaching and mentoring new team members and when, as a team, we get to solve business problems using the latest technology or suggest solutions to the business."
Interested in hearing more from Malik about her impressive IT career, her advice for fellow IT leaders and how her company has supported her? Read on!
To start, please tell us a bit about your job.
I am responsible for the financials, program governance and enterprise architecture for the IT group.
We build systems and operate them, but, more importantly, we advise and lead business teams on technology that can enhance the business and create results for our retail channel.
One of our major programs over the last two years has been creating a new retail technology platform.
While this has been a challenging program, it's an incredible opportunity and learning experience for our team.
How has US Foods set you up for success as a manager and leader?
At US Foods, our company's cultural beliefs are: Expect Excellence, Stop Waste, Team Up, Talk Straight and You Matter, which they act on via a variety of opportunities.
For instance, there are several programs at US Foods where I was able to start out as a mentee and become a mentor, such as our Women In Network ERG
I have also had the opportunity to participate in the Women in Foodservice Forum (WFF) as a participant and as a team leader.
In the WWF, mentorship is encouraged, both through the program and organically.
And there are several ways that the company makes the Executive Leadership Teams available to us, such as through roundtables and other leadership training opportunities.
Could you tell us more about mentorship and how this has enriched your own work experience?
Having a mentor at US Foods and one outside of the company has been a game changer.
At the start of my career, I was an independent consultant and felt that I was being self-reflective and thoughtful enough about going after the opportunities I needed to advance my career.
This approach, however, did not show me my blind spots.
When I started meeting regularly with my mentors, and we developed trust between us, they were able to shine a light on some areas I needed to work on that I wasn't aware of.
They helped me overcome these areas in order to move forward.
US Foods has also inspired me to offer mentorship and be that support to others.
How can women grow the skills needed to be a leader in IT?
At US Foods, we have many opportunities for women that allow them exposure to leadership training as well as access to other leaders in the organization such as the Women in Foodservice Forum, our Women In Network ERG and workshops such as Executive Presence and Influencing Skills.
On a personal note, what's your go-to stress-relief activity or routine?
My go-to stress relief is reading fiction for pleasure.
A 2009 study at the University of Sussex found that reading can reduce stress by 68 per cent and might even work faster than other stress relief methods.
When I can find a book to really get involved in, it invites my mind into a literary world that is free from the stressors I am experiencing on a day-to-day basis.
And, even after I am done reading, it gives me the perspective I need to look at my daily stressors in a new light.
I am currently reading a lovely book called "The House in the Cerulean Sea" by TJ Kline, which I would highly recommend.
Ultimately, what has led you to stay at your company?
There are many reasons for this.
I have seen US Foods live and lean into their cultural beliefs, and our culture has made strides in the last few years in diversity and inclusion.
I have always felt welcomed and included in discussions and have been continually provided with opportunities that aligned with my performance, while feeling like my managers cared about my wellbeing.
My company also has an amazing program called Women in Network (WIN), through which I was able to find a mentor who has been such an important part of my career journey.
US Foods is large, the opportunities are varied, and moving areas and developing new skill sets is encouraged.
This has allowed me to develop my career in the way I wish, while staying at the same company.
*Fairygodboss is a job search site that can be used by anyone, but specialises in helping women find work in almost any industry.
This article first appeared at fairygodboss.com.