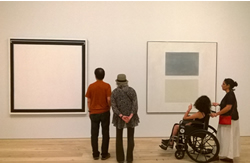 Recipients of Government grants aimed at upgrading services and activities to make them more accessible for people with disability have been announced by the Minister for Disability, Rachel Stephen-Smith.
Ms Stephen-Smith said that following the impressive response to the first round of Disability Inclusion Grants in 2017, the Government doubled the funding to $100,000 in the 2018-19 Budget.
"The response to this round was equally impressive, with 57 applications detailing ambitious initiatives that clearly demonstrate the ACT community's commitment to promoting the inclusion of people with disability," Ms Stephen-Smith said.
Through this process, we've seen a range of innovative and community driven approaches to reducing barriers to people with disability.
She said the successful projects aim to promote access to arts and sports, legal, medical and community services and recreational activities for people with disability.
They organsers and projects to be supported include Tjillari Justice, to adapt justice resources into Easy English for Aboriginal and Torres Strait Islander people with disability; Australian Breastfeeding Association ACT, to increase access for women with disability, or parents of an infant with disability, to breastfeeding resources and specialised support; and Ginninderra Athletics Club, to make their Early Years program more inclusive for children of all abilities.
In addition, Canberra Community Law will be supported to install a hearing loop at the Community Legal Centre Hub; Holder Family Practice and Isabella Plains Medical Centre, to install height adjustable beds' and Ainslie and Gorman Arts Centre to develop disability action plans among its resident arts organisations.
A full list of successful recipients can be accessed on the Community Services Directorate website at this PS News link.