Reviewed by Rama Gaind.
By David Banger, BookPod, $38.88.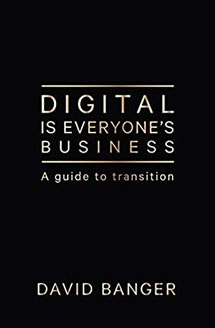 The title of this book is so true. The guide to transition sets out – in sequence – the steps you need to take to ensure a better future for your organisation.
David, a former CIO and digital executive, an adjunct professor, author and digital business advisor, gives some sound advice.
It's succinct, clear-cut and level headed. If you are serious about evolving your business and growing 'your' people and you want to understand and be digital, then this guide is your foundation.
As an internationally recognised innovator, David is a thinker and pragmatist. His expertise lies in offering concise insights that enable organisations and their people to realise their technology and digital potential.
As the marketplace changes, the demands on your business are extraordinary. It's fair to say, digital is puzzling, the volume of work is ever growing and the intricacy is snowballing.
Advice begins with your mindset and why learning is more important than knowing.
Then technology is one of several enablers with simple communication techniques for shared understanding of current capabilities and future aspirations that lead to better decision-making.
There's greater relevance through your people and their capabilities resulting in an alert organisation that can anticipate and respond appropriately to situations.
It's important to set the conditions for innovation with practical tactics, employee insights and partnership strategies culminating in more frequent and greater outcomes.
Determine when, how and what it is to be digital. Improving your digital IQ, being aware of the interdependencies of customer intimacy and scaled orchestration.