Reviewed by Rama Gaind.
By Tina Tower, Wiley, $29.95.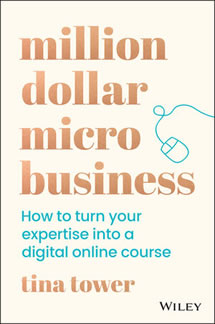 Tina Tower wrote a personal message that caught my attention as soon as I opened the first page of Million Dollar Micro Business. The two words "Dream Big!" – written distinctively with fuchsia-coloured ink – were noticeable, significant and essential to my way of thinking.
With a background in franchising and a work ethic based on the creed 'while they sleep, I work', Tina is described as an award-winning serial entrepreneur. She has founded, grown and sold several businesses and franchises and helped hundreds of people package their expertise into an online course, and launched it into the world.
Through her Empire Builder program, Tina is on a mission to help 100 women build a million dollar business by 2025.
She admits to being a curious experimenter when it comes to business. "I want to know how things work and the levers to pull to get different results."
Launching an online course business can be a daunting challenge. Putting the course together may have been laborious, but once done it has sold again and again and again. "That was when I knew that a million dollar micro business was actually possible."
"Revenue is for vanity, profit is for sanity" is a favourite commerce quote. Being involved in electronic commerce certainly takes work, but it's very focused and leveraged, so the business can scale while the owner retains their freedom.
"There's a process to follow to package our expertise into an online program and get your digital business up and running, but like anything worthwhile, it's going to take much conscious, calculated effort, and you'll need to do things you've never done before. Business is a mind game, and when we approach something for the first time it's often our mental blocks we need to overcome rather than any technical or mechanical challenges."
Tower provides some great tools that will help you over that pesky hurdle.