Reviewed by Rama Gaind.
By Silva McLeod, Exisle Publishing, $34.99.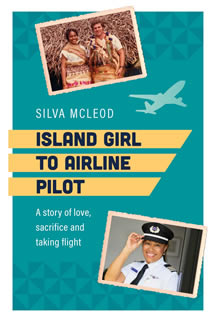 Perseverance, commitment and the will to keep trying despite major challenges and setbacks were the traits which resulted in success for Silva McLeod, the first Tongan woman to become an airline pilot.
"I didn't do it to write history or be the first of such. It was just my fantasy that I went to fulfil."
This story of love, sacrifice and taking flight, details how she went from a small island in Tonga to the cockpit of Virgin's Boeing 777.
With support from her husband and two children she fulfilled her dream realising "every adversity, every challenge, every heartache carries with it the seeds of greater benefit, but at a price."
Silva was born on the small Tongan island of Vava'u. She married Ken, an Australian, in a traditional Tongan ceremony before moving to Australia. As a woman of colour in Australia in the 1980s, she encountered frustration and racism, along with the guilt of leaving her Tongan family.
Silva was 31-years-old, her husband had been given five years to live, but with Ken's support she did what seemed like the impossible. She went on to become an instructor and then flew for Royal Tongan Airlines, the Royal Flying Doctor Service.
Flash forward to June 2020 and everything came crashing down for Silva. She lost "both of her loves" within three months: Ken to cancer and her job as a pilot at Virgin Australia during lay-offs because of the Covid pandemic.
Told with frankness and a selective photo album, the challenges of pursuing a flying career and its impact on her family are set against the backdrop of the love story of her life with her husband and his battle with cancer.