Reviewed by Rama Gaind.
By Roxanne Calder, Major Street Publishing, $29.95.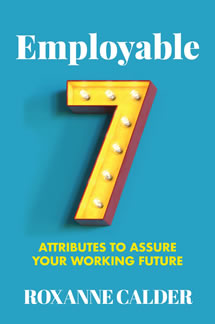 Have you ever wondered about how employable you are? Recruitment expert Roxanne Calder says if you are employed, it doesn't mean you are employable!
This is her definitive guide on how to be employable in a competitive job market. Technology is escalating the rate of change in the workplace.
Employable delves into the seven most important traits that employers are looking for in today's competitive job marketplace. Each attribute is given a chapter that examines its facets, ending with a self-assessment for readers to gauge the state of their trait.
Special chapters are included for those marking life milestones, a practical section includes chapters on custom-building résumés and CVs, skilling up for interviews, writing compelling cover letters and honing the job search by using transferable skills across job clusters.
After a successful career of more than 25 years in recruitment, Calder says you need to learn the art of observation to survive. "… I learned to pick up the subtleties of interaction and how to use these to negotiate and influence."
An important lesson is: "while you may not know exactly how at the time, ultimately all your actions and efforts will lead somewhere. Inactivity and non-exploration is undoubtably a much easier path to choose, but it's not the way to secure your future."
Recruiters develop the ability to look at candidates and their résumés "in terms of a 'life map story' – a map of the candidate's direction, with many connecting dots representing the whole story. This provides invaluable insight into candidates' personalities, but also highlights their untapped potential."
In our current times, knowing the attributes that make you employable will be imperative to your success.