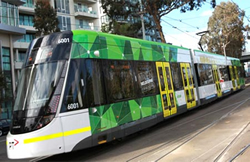 The Department of Transport has hit a major milestone in its work to upgrade Melbourne's tram fleet, completing the refurbishment of 250 out of 450 trams.
Announced by Minister for Public Transport, Ben Carroll, the tram refurbishments include an overhaul of mechanical components to ensure reliability; structural repairs to remove and protect against corrosion; window replacements; newly upholstered seats where required; new flooring; and a paint job.
"The 250th tram to be upgraded has served Melburnians well, with the B-Class tram having clocked up 1.7 million kilometres since it entered the network in 1993," Mr Carroll said.
In a statement, the Department said the full upgrade works included the VLocity Refresh Project to upgrade 75 existing VLocity regional trains; the North East train fleet upgrade; and upgrades of Melbourne's Comeng train fleet, "adding more comfortable seats, additional handholds, new CCTV cameras and driver CCTV screens, PA systems and emergency buttons".
It said the refurbishment of more than 85 per cent of Melbourne's trams (A, B, C, D and Z-Class) was also underway, along with the restoration of 12 of Melbourne's historic W-Class trams, including a new impact-resistant driver's cabin, new electronics and wiring.
"The trams' exteriors will also be rebuilt and repainted too," the Department said.
It said further upgrades to some Z-Class trams would also be completed to keep them in good shape until their eventual retirement from the network.