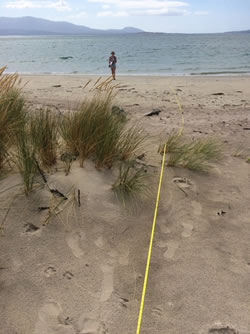 Plastic pollution along Australia's sea coast decreased by almost a third since 2013 according to a new study released by the Commonwealth Scientific and Industrial Research Organisation (CSIRO).
Chief Executive of CSIRO Larry Marshall said that the 29 per cent reduction revealed what could be achieved with a "Team Australia" approach.
"While we still have a long way to go, and the technical challenges are enormous, these results show that when we each play to our individual strengths, from community groups, industry, government, and research organisations, and we take the field as Team Australia – then we can win," Dr Marshall said.
He said the study built on CSIRO's extensive coastal litter surveys completed in 2013, and included 563 new coastal surveys as well as interviews with waste managers across 32 Local Governments around Australia.
Lead researcher at CSIRO, Kathryn Willis said waste control was driven at a local level so the research focussed on identifying which Local Government approaches achieved the greatest effect on reducing plastic pollution on the beaches.
"Our research set out to identify the local government approaches that have been most effective in reducing coastal plastics and identify the underlying behaviours that can lead to the greatest reduction in plastic pollution," Dr Willis said.
"We were really surprised and excited to also find that there was on average 29 per cent less plastic on our beaches than in 2013 when similar surveys were conducted," she said.
"Whilst plastic pollution is still a global crisis and we still have a long way to go, this research shows that decisions made on the ground, at local management levels, are crucial for the successful reduction of coastal plastic pollution."
More information about the Team Approach is available on the One Earth Journal at this PS News link.