By Christine Salins.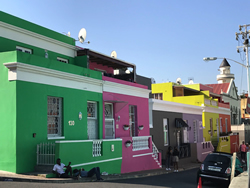 In the melting pot that is South Africa, one style of cooking stands out that can widely be considered a national cuisine: Cape Malay. More aromatic than chilli-hot, its roots lie with the Muslim slaves and exiled dissidents who were sent to South Africa by the Dutch from Java and other colonial outposts during the 17th and 18th centuries.
They brought little with them other than their religion, culture and cuisine, all of which have had a lasting impact on South Africa, and in particular Cape Town. Their recipes retained Asian elements but adapted and evolved to suit local conditions and ingredients, resulting in a uniquely local cuisine.
Spicy and aromatic, yet relatively mild, Cape Malay cooking features coriander, garlic, ginger, curry leaves, and an array of spices and other ingredients that have heavily influenced South African food. The best place to experience Cape Malay cuisine – particularly if you want to discover the fascinating stories behind it – is Bo-Kaap, one of the most photographed places in Cape Town thanks to the rainbow-coloured houses lining its steep streets.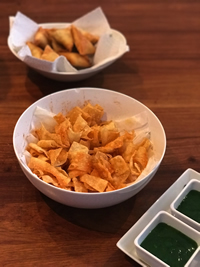 Former Cape Malay slaves settled here, at the foot of Signal Hill in the heart of Cape Town, in the early 19th century. For a while the area was practically a ghetto; during the apartheid era people were only allowed to rent their homes, not own them. The houses were poorly maintained and drab, but as the apartheid era came to an end, they were finally allowed to own the homes – cause for celebration and a touch of colour.
Thus, Bo-Kaap's vibrantly coloured houses and photogenic streets came to be. The Cape Malays are proud of their heritage and continue to preserve it through their community and religious practices, and through their food. "This recipe is 350 years old and we don't change it," says Zainie Misbach, of her recipe for chicken curry. "We never add saffron."
Zainie has lived in Bo-Kaap all her life, her family having arrived from Java around 300 years ago. She learned to cook from her grandmother and in 1984 opened Biesmiellah, South Africa's first Cape Malay restaurant. In 2004, she established the Bo-Kaap Cooking Tour, giving people close-up, hands-on experiences that offer a real insight into Cape Malay food and culture.
Zainie has appeared on numerous TV programs and in many magazines over the years, and these days relies heavily on her son, Zayed Harris, and his wife, Zoelfaa Basson, to help with the cooking and an introductory walk around the Bo-Kaap neighbourhood. They do it with passion and authority, honed from years of observing their mother at work.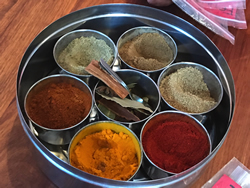 Zainie welcomes us into the neat and cosy living room of her home in Rose Street, a traditional cottage painted blue with pot plants lining the balcony. She introduces us to Zayed, who takes us on a short walk around the neighbourhood, telling us about the history of the area along the way.
We pop into a few shops to learn about the ingredients Zainie uses, firstly the Bo Kaap Mini Market where Zayed tells us a few secrets about roti and how to make it fluffy to mop up curry sauce (lots of layers with melted butter). He also shows us samosa pastry, which used to be made by hand in Bo-Kaap homes but is now widely available commercially. He recalls as a child collecting the pastry scraps from local homes and bringing them home where they would be deep-fried to make Dorito-like chips.
Up the road on Wale Street, the Atlas Trading Company is an Aladdin's Cave of spices, flour, rice and other ingredients that are a feast for the eyes and the senses. He explains how to make masala, the spice-mix curry base that Zainie demonstrates at the kitchen table on our return.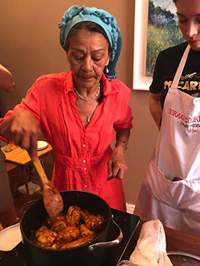 "Generally, a masala is made of three different colours: brown, yellow and red," says Zayed. "Brown masala has three ingredients: fennel, cumin and coriander, which when ground up, are called garam masala. Then you have to add your yellow – turmeric, the wonder spice." A traditional Cape Malay curry requires red masala as well, but what you use is a matter of preference.
In South Africa, it's popular to use a red masala cheekily called mother-in-law (chilli hot) or father-in-law (milder). Alternatively, you could use sweet or smoked paprika. Zayed then picks up some curry leaf, not to be mistaken for bay leaf, and says "that's the cherry on top".
Back at Zainie's home, we take a walk in the communal garden behind her house, where papaya, lemon, lime, banana, olive and date trees grow. An interactive cooking class follows, with an induction hotplate set up on her large dining table. Surprisingly, the chicken curry is made more like a stir-fry than a stew.
"You have it on a high heat, and you stir and stir," Zainie says, inviting everyone to give the pot a good stir. "Take the skins off (the chicken) because we don't want a layer of fat in the curry. We don't want to put the water in immediately because you try to prolong your stir-fry method so that all the garlic, ginger and spices go into the chicken. Water doesn't need to cover everything in the pot."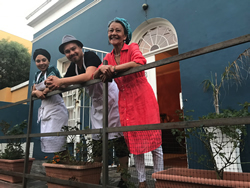 The curry doesn't take long to cook – probably only about 20 to 30 minutes – but in the meantime, daughter-in-law Zoelfaa demonstrates how to fold samosas and works with us to perfect the technique. It requires a deft hand: leave a gap in the corner or make a tiny tear and oil will run inside, ruining the filling.
When it's all done, the tools are cleared away, the table is set and we are invited to sit down and enjoy the feast – the samosas with a bright green chilli and coriander dipping sauce, chicken curry, roti, rice and a sambal of tomato, cucumber and onion.
Culture and history, anywhere in the world, are expressed through food. To experience an afternoon with Zainie and her family in the intimacy of her home is to experience the heart and soul of Cape Town.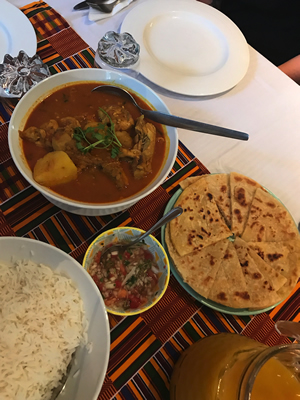 Chicken Curry
Serves 5
50ml canola or sunflower oil
2 medium-sized onions, finely chopped
1 medium-sized ripe tomato, finely chopped
1 kg skinless chicken thighs and legs
4 medium-sized potatoes, quartered
2 teaspoons finely ground turmeric
2 teaspoons finely ground cumin
2 teaspoons finely ground coriander
2 teaspoons finely ground fennel
1½ teaspoons finely ground red masala or paprika
30ml garlic and ginger paste
6 to 7 fresh curry leaves
6 to 7 sprigs of fresh coriander, roughly chopped
1 teaspoon lemon juice
1 teaspoon sugar
Salt to taste
In a deep pot, braise onions until light brown. Add chicken pieces and stir slowly to coat the meat in oil. While doing this, add the garlic and ginger and all the spices, and stir. Then add the chopped tomato, lemon juice, sugar and salt.
Next, add 100ml water then cook for 5 minutes, stirring continuously. Add the potatoes with 150ml water, cover pot with lid, reduce heat and simmer until the potatoes are soft. Add curry leaves and coriander, and stir gently before serving.
Recipe from Zainie Misbach, Bo-Kaap Cooking Tour, www.bokaapcookingtour.co.za
All guests are given a recipe booklet to take home, along with a packet of Zainie's pre-mixed masala.